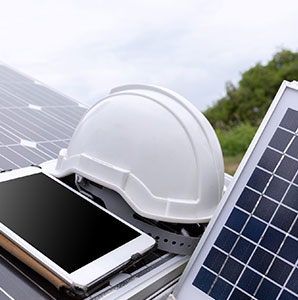 Energy Generation from Solar is one of the best investment for Human Beings
Solar Installation / Construction
Our successfully designed and constructed accumulative 8Mwp solar power projects across Pakistan running flawlessly.
Our valued clients are getting monetary benefits accordingly, offsetting carbon footprints and going green.
Our innovative designs and automation specifically for hybrid systems gives LS a distinction among other solar companies.
Our Work methodology as Turn-key Solar Project:
Selection of solar system size considering the load profile of the vicinity
Detailed Site assessment

Orientation
Shading issues
Checking of existing main electrical panel/DB for power induction
Place for inverter & batteries fixing

Appropriate Panel placement drawing
All related Mechanical and electrical drawings
FEA and CFD analysis of Structure using ANSYS, for wind load etc. (optional)
Energy Generation of 25 years considering yearly degradation factor
Costing and financial analysis sheets
Construction of project on international standards
Net-metering up-to 250kW solar projects
One Year Workmanship Guarantee (details)
Our Work methodology as Sub-contractor:
Limitless Solutions also work as a sub-contractor only for installation and commissioning of solar projects for other Solar Companies.
Our technically trained staff, under supervision of experienced engineers, ensures that the projects are installed as per client's requirement and on international standards. We have a track record of in-time project completion.
FREE Monthly energy generation evaluation report for first year Proven Record of In-time ROI & yearly savings as per proposal