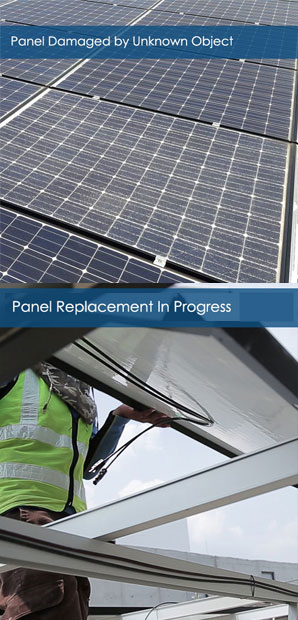 A well-maintained solar installation can actually perform 10 to 30% better
What is solar maintenance?
Solar maintenance services are required to maintain a solar system on a specific performance level to improve the output power and decrease the payback period of solar investment.
Installation of Solar PV System is just the beginning, but for reaping the complete benefits it needs proper periodic maintenance, as well the warranties of the system and system components could be void if not catered properly.

Despite their apparent simplicity, solar PV System needs professional and technical management to ensure maximum power production and an extended lifetime.

True Energie solar maintenance plan provides many benefits for all i.e. Residential, Commercial & Industrial sectors.
Prevention is always economical before the Problem occurs.
Every penny spent on solar maintenance will save substantial amount than in emergency repairs. That does not even includes the money that is lost in shape of energy during repair!
Following are the Key deliverable of solar O&M.
Monthly energy generation report provided via email that includes:

Actual Energy Generation
Comparison of Actual & Expected Energy
Suggestions, if produced energy is less than expected energy
Load Consumption vs Solar Generation for daytime & financial Savings

Our team will conduct checkup visits Quarterly
A detailed report regarding quarterly check-up will be submitted within 15 days after visit which consist of:

Physical condition of System
Recommendation and budget for improvement of physical condition if needed

On complain our technical team will be on site within 24 hours except public holidays
Replacement of faulty components will be charged as per actual when needed.
Items under warranty will be claimed by supplier.
Panel cleaning to achieve guaranteed energy (for commercial & Industrial sectors)
For Residential clients Panel cleaning training will be provided.
Benefits of Solar Maintenance:
Rapid problem's identification and resolution
Minimization of downtime
Comprehensive reporting
Ensure maximum power production
Accomplishment of warranted system's life
Above services are for all solar energy Systems, whether they are installed by TRUE ENERGIE (Limitless Solutions) or installed by any other company.
Just FOUR steps away to allow TRUE ENERGIE to cater your System
Click the button below, fill the attached form


Site Survey Form

Our engineer will visit your vicinity to perform a site survey
A Contract/Proposal will be sent to you, considering the data taken during the survey
signing of a service contract between Client and TRUE ENERGIE